Elio, a remote mining station
Field research, observation, ethnography, ideation, prototyping, mockup, video shoot
Chritina Bauer,
Siyue Chen,
Sandra Lundberg
How might we simplify remote mining in an automated set up keeping humans in the loop for decision making?
Redefining the interaction between work and workers which is highly automated.
With automation and remote-controlled operation becoming increasingly common, we are forced to rethink not only the physical location from where work takes place but also what tasks that are performed and what new work roles that might emerge from it. There is also a clear tension emerging between the complexity of control and on the other side human skill.
​
Elio reduces the complexity of excavation for operators and supervisors in remote mining where humans have controls over operation.
In this project, we focused on the professional-user, system, and use-context of the excavation and its supervision in mining. Our three key areas; control, skills and work roles. We defined a concept that will enable the user to shift between two work roles: monitoring and operating the excavation.
​
A dual-surface workstation that blurs the boundaries of roles between the operator and supervisor.
Elio is a remote work station for miners for 2030 having a morphing surface and duality in nature which focuses on reducing the complexities of the controls for an excavator. The concept also focuses on simplified controls,

empowering human senses

and offers

nonhierarchical and equal work responsibilities within the work setup

.
Require high attention
We have to deal with complex operations every day which require high attention every time, it's easy to get exhausted.
Excavator Operator, Aitik mines
Senses are useful
While operatoration, I use my senses to judge the workflow and environment.
Excavator Operator, Aitik mines
Supervision is highly dependant
During supervision, I handle all the emergencies but always depend on other technicians, I can not act myself.
Dispatcher at mine, Aitik mines
Current development is a replica
We have developed technologies to capture the surroundings of mine but the current remote setup is just replica of an excavator setup.
Technologists, Automation vechicles, Komatsu Forest
Difficult to find new employees
New generation is not interested in working in mines due to harsh work conditions.
Technologists, Orys Simulators, Komatsu
Three main focus area of project- controls, human skills and work roles.
Two focus area of the controls are driving and digging. When talking about the complexity of control Elio reduces the external complexity of the interface and simplifies the interaction complexity between the user and the interface.
Human skills - Array of sensors
Reducing mental load and keeping humans in the loop in decision making. "Control given up to automation at one level may actually increase control at a higher level". Another aspect that we want to address is the importance of sensory feedback as carriers of information.
Roles - blurring hierarchy boundries
Operation setup has always valued hierarchical setup which challenges transparency and creates dependencies. Here we are trying to blur the boundary of roles and offer a dual role to the workers i.e. operator and supervisor at the same time via surface duality (morphing).
New interaction model is simplified to have to direct the focus on more important task
We followed a human-centered research methodology
Half of the project was dedicated to research which involved various research methodologies like field visits, desk research, journey mapping, opportunity mapping, building hypothesis, testing, documentation, and concept video shoot.
We started things off by field visits and interviewing people we saw as specialists in the fields. At the beginning of this project, we were unsure of what route we wanted to take and we used these interviews to gather basic insights in both fields which lead us to find something that combines all key tasks for every role and deep dive into their operational activities.
Two days visit to the pit and underground enriched us with nuances of mining. There we got opportunities to understand excavation operation.
We learned what are the factors that are important to take care in remote operation and how we can bring actual experience of mine in a remote location.
We learned more about how sensors and cameras work and their mechanism. We also understood the working and limitations of sensors.
Key factors and why they matter
After we are back from field, it took quite a while to make sense of what we gathered. This map further helped us while working on the solutions in later stages
Bring insights to a space that should make sense to everyone
Journey mapping of a shift
We mapped a shift journey of the excavator. Captured details on-time distribution and key tasks performed in every shift and senses that help them to accomplish the task.
There are five layers of stakeholders in every excavation operation. They communicate with each other while the operation and they are highly dependent for many jobs.
Current remote mining and its challenges
Along with understanding the current mining scenario, it was equally important to understand the current remote mining.
Remote operation offers safety, full control, and low set up cost for pit mining or underground mining.
A solitary work environment for monotonous work
New technology but the similar interface as cabin, can not deal with uncertainty
Difficult to analyze the penetration angle of the shovel with respect to ground
Difficult to get a 360-degree view. Especially when the bucket is up in the air.
Surface cluttering due to multimodal display and controls
Sensors provide guidance and act as preventive wall collision but it effects health
Hard to concentrate for a longer time, Day and night shifts are different
Based on the different expert interviews and visits we conducted, now we had an idea of factors that helps in operation and what could be or should be considered while defining the focus for further development in the project.
Complex and bodily unfriendly operation, effects health of operators and productivity.
Engaging body and senses reduces the mental stress.
Need an organized environment where professional users are capable of taking full responsibility.
Based on our research we mapped out the possible opportunities which were focussed on making the work environment friendly for all generation blurring the boundaries of hierarchy.
Opportunities into ideation
After all the research we went ahead into the ideation and worked on every identified problem separately and then combined it together to make a holistic solution.
5 minutes ideas generation sprints, where is tried we get the answer for all questions
Morphing controls

First set of ideas, making system smart, sensory real time feedbacks while operation
Pet excavator

Second set focusing on the representation of mine that fits the collaboration using digital twin
Low fi - high fi prototyping
What we called proof of concept to validate the concepts. In this stage, we dealt with various concerns like the level of abstraction, scaling, anthropometry and usability.
Paper mockup for supervisor work table
Paper mockup illustrating duality of table surface for operator
Table illustrating controls representation of mine and illustrating the scale.
In this phase, we again came across the same question of abstraction. Few question that came up-
Level of abstraction of controls
Shape and form of controls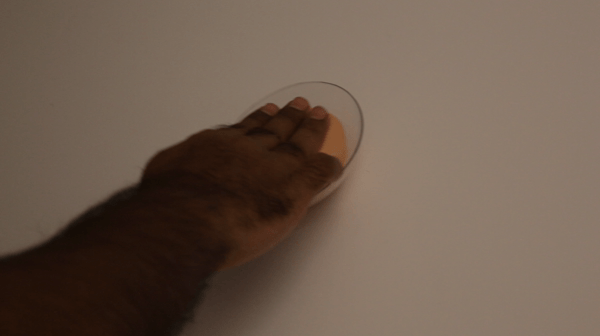 Imitation of the arm angles to make the angle calibration easier and precise
Control bigger than cavity to support the movement.
Reimagining the driving and testing the controls placed in cavity
Almost in the second last week, we spent our time in the workshop to fix the final concept and bring it to life.
When our concept was presented to Komatsu this is how the overall project was concluded.